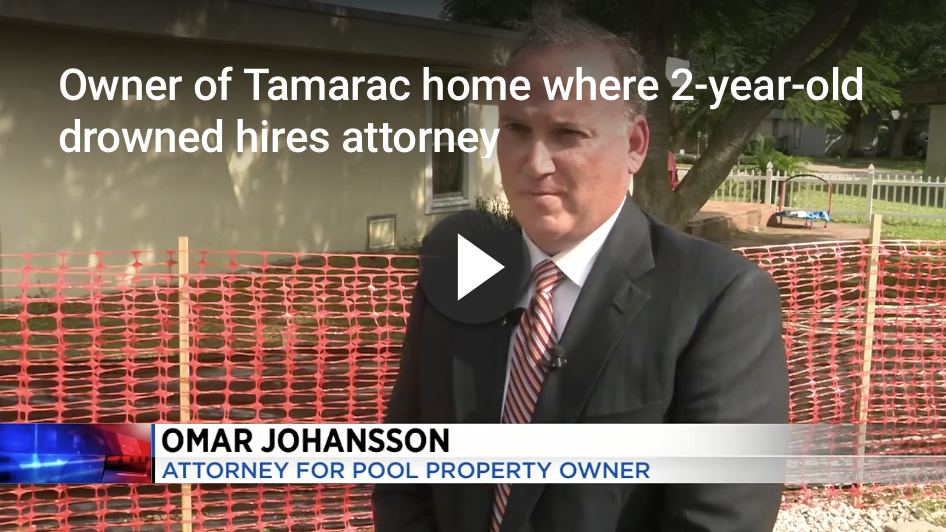 A week after a toddler wandered into his neighbor's pool and drowned, the attorney for that neighbor told NBC 6 that his client followed a law the 2-year-old's family claim was neglected.
Josiah Rivera died last Friday after he was found unconscious in the pool at a home in the 7800 block of Northwest 68th Terrace in Tamarac.
It's required by law in the City of Tamarac for pools to have a surrounding fence. The neighbors had a black tarp around the pool that their attorney says was up for more than a year before Josiah died.
"That black barrier is sufficient, how do you say that's a permanent barrier?" said attorney Omar Johansson. "I've seen nothing from the city that says that black barrier is in violation of the residential pool requirements."
But records show the city fined the pool owners tens of thousands of dollars and even placed a lien on their home in January for failure to construct a permanent fence around their property.
"A fence repair would consist of replacing broken or rotten slats or maybe a post," a structural building inspector wrote to the owners in July 2018. "The picture you sent me shows replacement. A permit is required. Especially around a pool where gate closing requirements and life safety issues are at stake."
Josiah's family are devastated and blames both the city and their neighbors.
"We would like for the city to do its job and have the fence put up," Wilmari Rodriguez, Josiah's cousin, told NBC 6 earlier this week. "There's other kids in this neighborhood, it can happen again, it shouldn't have happened the first time had the codes been enforced like they should have."
Johansson said his clients were extremely upset and are grieving for the boy and his family. He insisted the black tarp was enough to satisfy the law.
"My clients in no way shape or form had any culpable negligence, had any sort of reckless disregard for the life of that poor child," Johansson said.
The Broward Sheriff's Office is still investigating the drowning and haven't revealed how exactly the child ended up in the pool or if he was unsupervised at the time.
Source: https://www.local10.com/news/2019/11/08/owner-of-tamarac-home-where-2-year-old-drowned-hires-attorney/
Related Article: https://www.nbcmiami.com/news/local/boy-drowns-tamarac-pool-investigation/2043802/